The UK's edge platform
Our 12 edge data centres, interconnected through a low latency network fabric, deliver access to cloud, connectivity and compute services across the UK and beyond.
So if you are seeking to deploy new edge applications, securely build hybrid cloud infrastructure or improve connectivity performance, the choice is simple.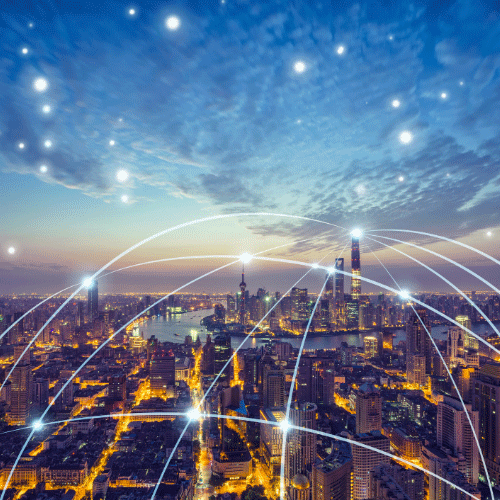 Deliver the UK's next-generation Edge platform
Our edge infrastructure platform is used by businesses across the UK to build, connect and deploy the hybrid workloads they need to reach their digital goals and drive competitive advantage.
Edge-ready colocation nationwide
5 - 10ms latency or less
95% coverage for the UK population
High speed, secure deployment
Edge benefits
Edge Data Centres
Our network of owned and operated colocation facilities are within low latency reach of the UK's major cities.
Agile Connections
Interconnection across all of our locations is delivered by a private high-speed network giving reliable, scalable and high-capacity coverage to businesses across the whole of the UK.
Hybrid Cloud
Hybrid cloud services combine public and private cloud ensuring the right edge workload can run in the best location, with automation, security and cost management handled through a single platform.
Flexible Contracting
Our finance model allows costs to move between Pulsant services. Help to reduce spiralling costs and preparing our clients for the transformation towards edge computing.
Edge data centres across the UK
We are the largest regional data centre provider in the UK, all of our data centres are strategically located, edge-ready and highly connected.
The next generation of cloud, connectivity and data centres
Agility with cost control, reach with low latency, secure infrastructure with the flexibility to grow your way.
We deliver the platform for your success today and tomorrow.
Trusted to deliver by leading UK brands
We work in partnership with over 1500 clients delivering resilient, scalable and highly available critical infrastructure to support their business growth.


We were fortunate to have the right vision early on, and the expertise of the Pulsant team to execute and implement it.
Gina Connell
,
Director of Infrastructure
,
BP Collins
Our latest news and resources
Read more about what we have been doing, how we're helping our customers and what our experts are saying about Edge, Cloud, Connectivity and Colocation.
By 2030, the world will look very different, not in the least because of new technological...
For those who remember the tech world before the COVID digitalisation gold-rush, the 2019 assertion...
Pulsant insights and best practices delivered straight to your inbox.
Sign up now for the latest Edge, Cloud, Colocation and Connectivity news straight to your inbox.