We have worked hard over the past few months to design and implement a replacement portal, taking into account what was available across the portals of the various companies we have acquired. As you would expect there was also a customer wish list of new features which we have incorporated. In the backend, this has required huge effort to collapse down all the data, so we could present all services and tickets through a single interface. The new portal will be available at https://portal.pulsant.com from Wednesday, 31st July 2013.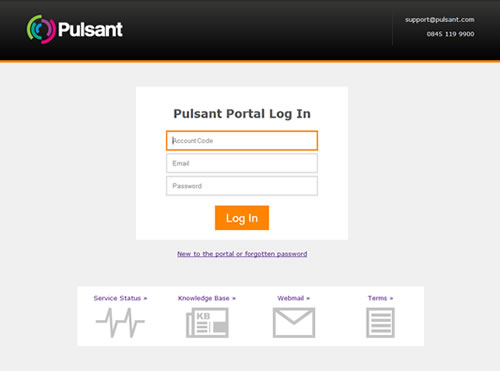 In addressing the most common features requested, we have provided a brief summary below:
Friendly name field
The most requested feature was to have a field across every service that customers could use as a service identifier. We have internal names for all our services, as an example DED2625 is a webserver. With the addition of the friendly name field any text provided is appended and displayed in brackets. So across all systems this server could display as DED2625 (www.pulsant.com primary web server). This is clearly much more specific and should simplify any communications between customers and Pulsant engineers.
Services belong to a solution
Rather than have all services at the same level under an account we have added solutions to allow grouping. A solution can be given a name and will contain a number of related services. Following the example above a good solution name could be "Pulsant website", which contains the web servers, the database servers, the load balancing, the domain and a firewall. On a large account this allows an engineer to quickly identify closely related services. We have included filters allowing you to view only a specific type of service or only services within a specific solution.
Emergency contact at a solution level
We have added an emergency contact person and emergency contact notes field to the solution, which is presented at the top of every service page. The notes field should be used to concisely explain anything custom about the solution that would be useful in an emergency.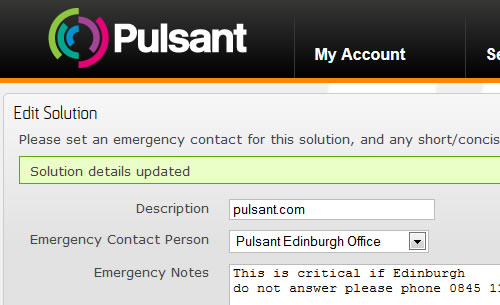 Granular authorization levels
Many customers have asked to have more granular levels of permissions for the different people in their accounts. By grouping services into solutions, we can now provide these permissions at a solution level; a person having a type of permission to a specific solution. We have come up with 6 types of permission:
Access Control – Ability to add & edit permissions for all contacts on this solution
Technical Support – Request information / support for services under this solution
Technical Changes – Issue change requests for services under this solution
Billable Work – Authorise charges for requested work on services under this solution
Physical Colo Access – Permission to access physical colocation services under this solution
3rd Party Colo Access – Authorise anyone for one-time access to the physical colocation services under this solution
People on your account will only be able to see service details and tickets with a service assigned if they have suitable permissions to that solution. You can see below that Person 1 has greater permissions than Person 2.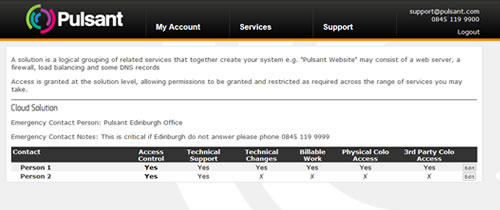 Dashboard on home screen
Another frequent request especially where customers take many services is to see at a glance any services or tickets requiring attention. We have added a tickets panel to the home page, this lists any tickets marked as requiring an update from the customer. Similarly we have a panel specifically for managed devices, to show any that are not responding to our ping monitoring. We plan to extend this across more of the services over the coming months in order to give you a simple overview of your services.
API
The API has gained some traction and we had a number of users hitting it, so we have extended what it is capable of. There is thorough documentation of how it works within the portal, but should you require further help please raise a ticket or use the portal feedback form – or if you use the API please let us know what you achieve – it's always great to hear of people doing tight integrations with their own systems.
Some examples of things (we are aware) the API has been used for:
Displaying infrastructure in a "network map" coloured green or red (indicating up or down) on wall mounted monitors.
Colocation customers pulling bandwidth stats to ensure they avoid any overage charges
Displaying open tickets on wall mounted monitors to ensure fast responses.
In addition to the above, there are lots of little improvements – whether that be visual, speed or just general ease of use.
We hope you like this new portal, and put it to good use! As ever, we're always interested in hearing your feedback – so let us know what you'd like to be able to do in the portal, and we'll do our best to make it happen!