Following the enhancements made to the DediPower customer portal last Summer, the addition of an API caused a lot of interest. Exposing an API (application programming interface) to clients allows real-time data to be pulled directly from the DediPower portal and could be used in a number of ways. The API could be used to integrate the customers data directly into their own management or monitoring systems.
Over the past few months we have regularly been expanding the API. This means the API has been thoroughly tested and is extremely stable. The features we have added mean all the following are available to use:
Services

List all managed servers and their details
A reboot server call exists
List any CDN (Content Delivery Network)
List any Co-Located severs

Tickets

List all tickets on the account
List all the updates within a specific ticket
Open a new ticket (sent directly to our support teams)
Reply to a ticket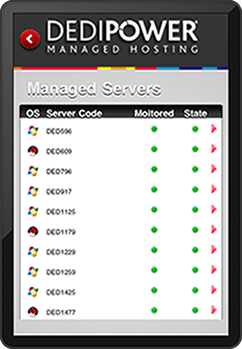 Due to the number of people with smart phones and the convenience of allowing customers to quickly check their servers, or check the state and reply to a ticket, the next step was to use the API within applications for these devices.
The primary focus was on creating an iPhone Application (Gareth later wrote an Android app). Regardless of the functions called the API returns an array containing either 'success' or 'failure' and then the data results. The data returned to the app is already sorted, meaning when developing the application the priority was placed on usability and having a visually clear display of information.
From the application we feel we have created a product that is useful at a glace, for instance within the server table every server listed should have a green icon indicating it is working correctly. However, the application is most useful if you require more information on your solutions but are travelling or away from your computer.
DediPower is committed to supporting our customers and delivering solutions and services that make your business lives easier, and we hope these App's are a useful addition to this. If you have any feedback regarding the iPhone or the API please add it to a ticket or within the portal use the 'feedback' button at the top right of the screen.