Mouths dry, palms sweating, adrenalin pumped – the throttles opened and virtual rubber burned.
For 30 customers, prospects and staff at our Virtualisation event, held at Pure Tech Racing near Gatwick, the experience was unforgettable.
Drivers ate dust, virtual lives were lost and egos trashed as we all strove for victory and the fastest lap time using the most advanced racing simulation machines in the World.
During each race, ten full-scale F1 racing simulators, capable of 750bhp and exerting a whopping 1.5 Gs on the drivers, leapt to life – taking us round a race course that included the 'widow's hairpin' at speeds of over 250kph.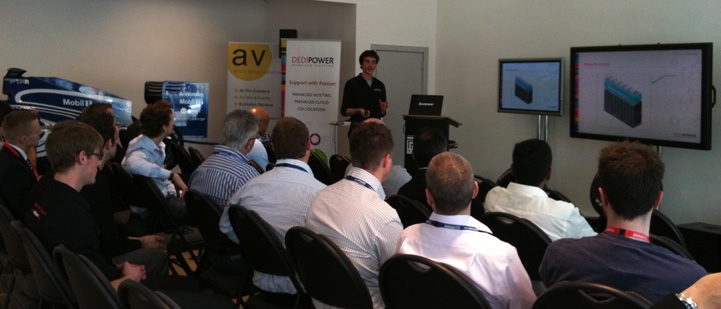 Rob's pre-race presentation on virtualisation was powerful and fast paced setting the tone for the rest of the day. Delegates were really engaged and the discussion continued with the only interruption being the intense anticipation of what was to come.
Reactions after the first race ranged from "Awesome!" to "Wow, the best thrill ever" As the competition intensified, you could taste the tension in the air. DediPower's 'Passion for Service' was transformed into 'Passion for Speed'.
The DediPower team competed in the first of two finals; the DediPower Demolition Stakes were started. A race with one aim – to cause Ben pain. Mission accomplished, Matt won the race and secured 'bragging rights' by squeezing Ben into second place and Kevin into a close third.
The real final saw the best of the guests competing for a space on the podium, a DediPower trophy and a bottle of champagne.
The high paced race created the overall winner; Alex of Network Q. He was closely followed by James of Reference Point Limited in second and Steve of Baigent Digital in third. Buzzed with success, Alex said, "Simply the best corporate event ever. Still can't believe I won!"
A special thanks to all those who joined in the fun and to the Pure Tech Racing Team many of whom are former FI drivers and crew. Their humour and professionalism fuelled the atmosphere and made it a truly thrilling experience for us all.